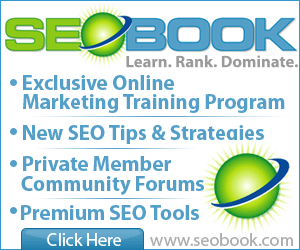 The Craziest Internet Marketing Contest Ever ended yesterday and the winners were picked in a marathon Excel spreadsheet session by Gyutae Park early this morning. I can't imagine having to figure out all the points everyone accumulated. The good news however, is that I won a very substantial prize in the contest, a 3 month membership, valued at $300, to Aaron Wall's SEO Training Program which includes a copy Aaron's SEO Book, the authority on SEO. I though I would have had a good chance to win an H2 Hummer, but that turned out to be an April Fool's joke, which I hate to admit that I fell for.
I've checked out Aaron's site before and had it in the back of my mind to spend more time there, but since there's only so much space in my brain I can rent out at one time, I've never really gone beyond a superficial look. Now I have a good excuse to spend some serious time looking into SEO and learning it. This has definitely been a weakness of mine since most of what I've learned has been the basic, write good content, meta keywords, meta description, keyword in the title and keyword on the page stuff. Honestly, I think if I read another article that tells you to use these 4 or 5 things and then your site will be SEO'd, I'm going to scream. There's more to it than that.
I have a couple of vacation related sites that do very well with affiliate programs and Google Adsense with the little traffic they get. If I could get 1,000 to 2,000 people per day to each of these sites, I could probably retire and do nothing but write this blog. I'm sure there's something I'm missing with these sites and I'd like to find out what it is beside that meta tag thingy. Hopefully, I'll learn some info through Aaron's training program. I'll be blogging about what I learn and the results I get through the training, but only to the extent that I won't be giving away any proprietary info.
I am so looking forward to getting into this.
Getting into contests on the web has proven to be quite successful lately. I've probably won more by entering blog contests in the last 3 or 4 months than I have in the previous years of my life. I've always held out for the $10 million prize from Publisher's Clearinghouse, but I'll take what I can get. A $300 prize suits me just fine, especially when it has the potential to earn me a lot more than that.
On another note I want to say congratulations to Michael Zebold of Real Estate Loop who won the prize I sponsored in Gyutae's Winning The Web contest. Michael will be getting two months of free advertising on my sidebar with a 125 x 125 banner. I've sent Michael an email and he can contact me here as well to set things up.
Congratulations to all the other winners including those who won some sweet cash prizes of $50 to $650. It might be a good thing to let the contest mania subside in the blogosphere for a while before the next one, since this latest contest will be hard to top, unless you really do have an H2 Hummer to give away or maybe a MacBook Air, Shoemoney?
Popularity: 5% [?]
If you have enjoyed this post, please consider subscribing to my full RSS feed or you can have posts send directly to your inbox if you subscribe by email.
Bookmarks: | del.icio.us | Digg it | Furl | reddit | StumbleUpon