Sometimes as an affiliate we look at some offers and products and wonder if people will really pay the price the merchant is asking. An item's price does make an impact on whether or not we will promote it. With that said, how would you like to make money giving stuff away for free? Does that sound easy? Believe it or not, that's all you have to do to earn money with RevResponse.
RevResponse offers all kind of business and industry related reports, magazines, white papers, software and even podcasts you can offer visitors to your site for, remember that was, free. Regardless of what your blog or site is about, there are magazines and reports available for your audience. In fact there are several hundred available in the more than 30 categories you can search through.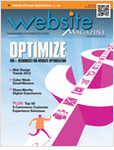 One of those magazines available is Website Magazine which covers everything an affiliate marketing webmaster would want to know such as advertising, Adsense, search optimization, affiliate programs, web development and design and lots more. And did I mention Website Magazine is free just for the asking? All you have to have is a web site to qualify for the free subscription.
And with the RevResponse affiliate program you can earn a minimum of $1.50 up to to $20 depending on what you give away. You can use the RevResponse Ad Wizard to create banners and widgets to put on your site or blog sidebar and you also get a co-branded site you can make look like your own site or customize it just the way you want. You can check out my RevResponse affiliate site here.
Any way you look at it RevResponse is a great opportunity for the affiliate because so much of what they offer can easily fit into your blog or nearly any other niche you are promoting.
Sign up with RevResponse here.
Popularity: 4% [?]
If you have enjoyed this post, please consider subscribing to my full RSS feed or you can have posts send directly to your inbox if you subscribe by email.
Bookmarks: | del.icio.us | Digg it | Furl | reddit | StumbleUpon